Company A
151st New York Volunteer Infantry Regiment
When we cannot attend an event as Berdan Sharpshooters, we portray a "blue" unit, Company A of the 151st NY. When attending events such as Cedar Creek and New Market we must wear the regular blue of the Union Army. Company A of the 151st bought their own sharps rifles and used them throughout the war. In addition to the Sharps rifle, a blue sack coat, sky blue trousers and blue forage cap are the only additional items needed to portray the 151st.
A brief history is below, if you wish to read more about the 151st NY, the following books are available. Chronicles of the 151st New York State Volunteer Infantry by Helena Howell, published in 1911(a reprint is available), The Forgotten Regiment – History of the 151st New York State Volunteer Infantry by Paul Stephen Beaudry published in 1995 and Give God The Glory -Memoirs of a Civil War Soldier-edited by Melvin Jones.
A Brief History
In August of 1862 Orleans and Niagara counties of New York, a conservative farming area of western New York, were caught up the patriotic fervor of the time. Everyone in this area believed it was the duty of able-bodied men to serve the Union. The citizens of these counties petitioned the Adjutant General of the State of New York to authorize Hezekiah Bowen to recruit an independent Rifle Company. He was given a commission by the Governor and authorized to raise a company of infantry with a three-year enlistment.
Bowen began assembling a staff and on August 13th, 1862 enrollment began, with 100 men signed up for a three-year enlistment.
The Medina Tribune (Medina, New York) issue of September 4th, 1862, remarked, "We are credibly informed that there is only one man in the Company below 5'6" in height, and that the average height of the whole Company is about 5'9".
Helena Howell, a niece of Hezekiah Bowen, wrote:
"The quota of one hundred men was soon filled with the noblest of the County, for with only two or three exceptions, it was composed of American born boys, having had good advantages and education, mostly sons of well-to-do farmers. It was dubbed the 'top buggy company' in view of so many being able to take young ladies out in "top-buggies".
As a normal practice of the period, the men elected their officers and non-commissioned officers. This was completed shortly after the men were officially enlisted. Hezekiah Bowen was elected as the Company Commander.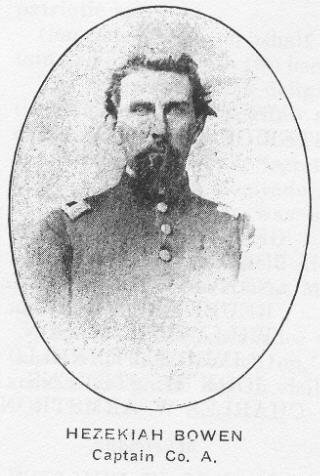 The following men were then elected to positions of rank: 1st Lt. Charles Bogardus from Ridgeway, 2nd Lt. Benj. Tanner also from Ridgeway, Albert Warring of Kendall was elected 1st Sergeant. The 2nd through 5th Sergeants were Thomas Harmon, Wallace Greeley, Daniel Arnold and Romain Barnes.
While the Company was being organized, a public debate took place regarding the best weapon to arm the Company. The public discussions convinced Hezekiah Bowen that his men should be armed with the sharps rifle. After all the discussions, each member of the company bought his own Sharp's rifle, paying $40.00 for it. These rifles made them the best-equipped company in the 151st NY.
The men were sent to Camp Church immediately after enlistment, some exceptions were made for those needed on their farms; they came to camp after the fall harvest. Camp Church was located on the Lockport fair grounds where the annual county fair happened to be going on. The "troops" were separated from the "public fair" by a rope stretched around the perimeter of their camp. Guards were posted, not to keep the public out but to keep the troops from joining the fair festivities. It was during this fair that an incident took place that seemed to typify life in the camp and the culture of Western New York at that time
The LockRort Daily Journal & Courier reported in its September 27th, 1862, issue, "We learn that the guard House at Camp Church was pretty well filled yesterday for various "deviations". We learn that one soldier was confined for kissing his girl "across the line".
Bowen immediately began to train his men, but as most elected officers of the time, he knew nothing about military formations and tactics, nor did any of his officers or NCO's. Every night they studied Army manuals trying learn their new duties and responsibilities. Then, the next day they would try to instruct the men of the Company without much success. Bowen's Independent Rifles were the only men armed with a Sharps rifle and they were becoming very proficient with their Sharps rifles. They wore a nine button blue frock coat and sky blue trousers with accoutrements. They were not trained properly until reaching Baltimore where they discovered what Army life was really like. Letters home complained of poor quality uniforms and shoes issued there. But they were well drilled there and subject to the discipline of Army life. They became well trained and performed their duties well during their wartime service; at Cedar Creek they were involved in savage hand-to-hand fighting.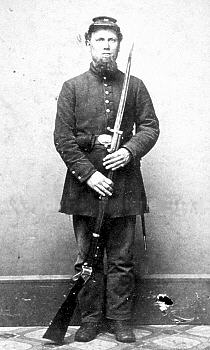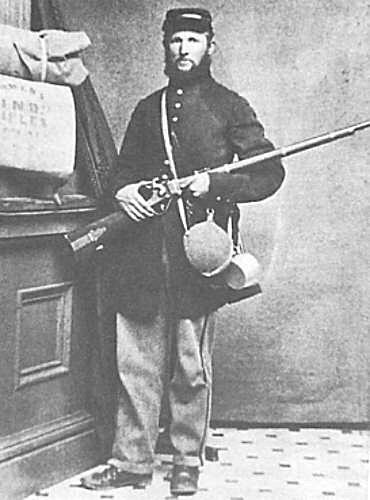 Unknown 151st NY soldiers: note sharps rifle with sword bayonet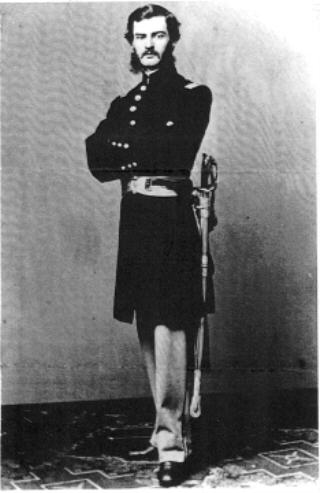 1st Lt. James A. Jewell (151st NY Adjutant)
The 151st NY came into being at Camp Church in October 1862 with Bowen's Independent Rifle Company becoming Company "A" of the 151st NY.
Companies of the 151st NY
A - Independent Rifles, from Medina
B - from Niagara Falls
C - from Batavia
D - from Albion
E - from Rochester
F & I - from Lockport
G - from Counties of Niagara and Orleans
H - from Niagara County
K - from Somerset, Newfane, Olcott, Buffalo, Eden, North Collins, and Lockport
The following Co A 151st NY information is from the "Chronicles of the 151st New York State Volunteer Infantry by Helena Howell"
Battle of Mine Run
The season being advanced, the nights were cold, snow was on the mountains, the roads were almost impassable, and the men felt that preparations should be made for winter quarters. On Wednesday, November 25th, they were told that where they were at Brandy Station was to be their winter quarters, which was extremely satisfactory.
But delight turned to disappointment the 26th, Thanksgiving Day, before they had their breakfast, when they were ordered to pack up immediately. Falling in line, they marched and marched, with no suggestion of the feast which is synonymous of that day! About two o 'clock Seth Beeman, John H. Stevens and M. R. Bowen "fell quietly out of the ranks into a piece of woods and set about getting something to eat. Having collected on the way flour, milk, tea, and little apples, we fried our pork, our hard tack, our apples, made flour gravy and our tea, then sat on a log and enjoyed our Thanksgiving dinner. We sorted out our silverware then hurried on, and overtook the regiment while it was waiting for a pontoon bridge to be laid across the Rapidan."
Friday morning the troops were ordered to advance, later halting in a large tract of woodland. All were confident they were going into battle, and different ones relate the premonitions they had of the wounds they were to receive. It is apparently true that such warnings were fulfilled, and in discussing the matter with a choice where the bullet would strike, there it was made the point of attack. It is related of the lamented Capt. S. S. Wilcox, that he made the preference if a ball should strike him, that it should prove fatal. He was the only officer killed at Mine Run.
"At Mine Run Co. A, having Sharps breech-loading rifles, was ordered on the skirmish line. After half an hour the rebel column advanced, and we fell back to our line of battle. Our men rose from the ground, and then commenced what was later claimed to have been one of the sharpest musketry duels of the war."
Company A lost two non-commissioned officers and four men wounded and missing;
Corp. John Stevens, wounded in thigh (severely).
Corp. St. Clair, wounded in leg (severely)
Jesse Benson, wounded in shoulder (severely)
Christopher Spaulding, age 44, wounded in right shoulder (arm amputated), died of wound Dec 3, 1863 at Brandy Station, VA.
Jake Rolfe missing
.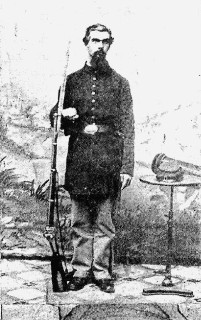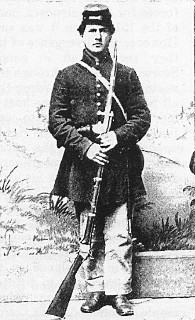 Corp. John Stevens Jesse Benson
Company A had their own flag presented to them by the Ladies of Ridgeway.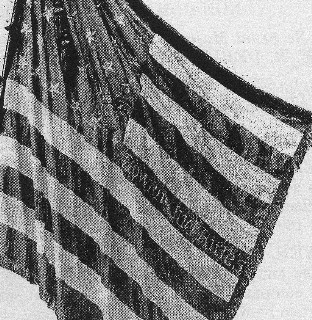 Inscription on flag – "Bowen Ind Rifles"
The 151st NY served:
in the Middle Department - 8th Corps, at and near Baltimore, MD, from October, 1862;
in West Virginia, in the 3rd Separate Brigade, 8th Corps, from February, 1863;
at South Mountain MD., in June 1863,
in 3rd Brigade, 3rd Division, 3rd Corps, from July 10th, 1863;
in the 1st Brigade, 3rd Division, 3rd Corps, from August, 1863;
in the 1st Brigade, 3rd Division, 6th Corps, from April, 1864;
it was honorably discharged and mustered out on June 26th, 1865, near Washington, D.C.
Engagements of the 151st New York Volunteer Infantry Regiment:
DATE ENGAGEMENT
1863
July 20 Wapping Heights
Oct 15 McLean's Ford
Catlett's Station
Nov 7 Kelly's Ford
Nov 26 to Dec 2 Mine Run Campaign
Nov 27 Locust Grove
1864
May 5 –7 Wilderness
May 8- 21 Spotsylvania C.H.
May 22 –26 North Anna
May 27 -30 Topopotomoy
May 31 -June 12 Cold Harbor
June 1 First Assault
June 3 Second Assault
June 17 -July 5 Petersburg Campaign Virginia
June 17 -19 First Assault
June 21 -23 Weldon Rail Road
July 9 Monocacy Junction
Aug 21 Charleston
Aug 28 & 29 Leetown
Sept 3 Smithfield
Sept 19 Third Winchester Virginia
Sept 22 Fisher's Hill
Sept 24 Mt. Jackson
Oct 14 Strasburg
Oct 19 Cedar Creek Virginia
1865
Mar 25 Petersburg works
Mar 28 – Apr 9 Appomattox Campaign
Apr 2 Fall of Petersburg
Apr 6 Sailors Creek
Apr 9 Appomattox
During its service the Regiment lost;
killed in action, 5 officers, 75 enlisted men;
of wounds received in action, 26 enlisted men,
of disease and other causes, 1 officer, 99 enlisted men;
total 6 officers, 200 enlisted men;
of whom 23 enlisted men died in the hands of the enemy.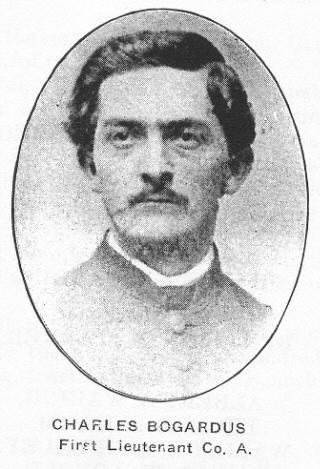 The Appomattox Campaign Report of CHAS. BOGARDUS, Lieutenant-Colonel, 151st NY
HEADQUARTERS 151ST NEW YORK VOLUNTEERS,
April 10, 1865.
MAJOR: I have the honor to report that this regiment was formed for a charge on the rebel works in front of Fort Fisher on Sunday morning [April 2] at a quarter to 4 o'clock in the second line, with the Fourteenth Regiment New Jersey Volunteers on our right. At 4.20 o'clock we started on the charge. We captured the picket line in our front and passed into a rebel fort, capturing two of the six pieces of artillery and two caissons in the fort. We wheeled to the left, passing down the line of works, driving everything before us until we came to a fort, capturing one more piece of artillery and one more caisson, where the rebels rallied and drove us back across a swamp to the next fort and reopened the two pieces of artillery on us. We held the line across the swamp over an hour until nearly 7 o'clock, when the line was reformed and we advanced, driving the rebels from the last fort at which they made a stand. We were then halted about an hour and marched back to the front of Fort Fisher and toward night we formed line in front of Fort Keene and threw up a line of breast-works. Monday morning we were informed of the evacuation of Petersburg and marched west, crossing the South Side Railroad and taking the road between the railroad and the Appomattox River, halting for the night ten miles from Petersburg. Tuesday, April 4, commenced marching at 5 a.m., marching very slowly during the forenoon and quite fast during the afternoon, going into camp at 9 p.m. Wednesday, April 5, commenced marching at 4 a.m., halted at 8 a.m. until 11.30, and then marched fast until 8 p.m., when we formed line near the Danville railroad between Amelia Court-House and Burkeville, throwing up earth-works.
Thursday, April 6, we advanced by the right of the regiment to the front at 7 a.m. in the direction of Amelia Court-House; we did not find any enemy and returned to the line of works at 12 m. We then started to join Sheridan at Sailor's Creek, and did so at about 4 p.m. and immediately charged the enemy in our front, driving him at every point until he was forced to surrender. In this engagement our losses were 2 killed and 4 wounded.
Friday, April 7, commenced marching at 8.30 a.m. and halted at Farmville at 3 p.m. At 8 p.m. we crossed the Appomattox River and camped for the night.
Saturday, April 8, commenced marching at 8.15 am; marched about two miles, halted until afternoon, when we marched through Buckingham Institute, passed Willis Mountain, and camped at 9 p.m. at New Store.
Sunday, April 9, broke camp at 7 a.m. and marched on the road toward Appomattox Court-House, halting two hours in the forenoon and camping at 3 p.m. twelve miles from New Store, where we have remained since.
I am, major, very respectfully, your obedient servant,
CHAS. BOGARDUS,
Lieutenant-Colonel, Commanding.
| | |
| --- | --- |
| | |
| The Forgotten Regiment | Chronicles of the 151st New York State Volunteer Infantry |
| History of the 151st New York State Volunteer Infantry | by Helena Howell |
| by Paul Stephen Beaudry | |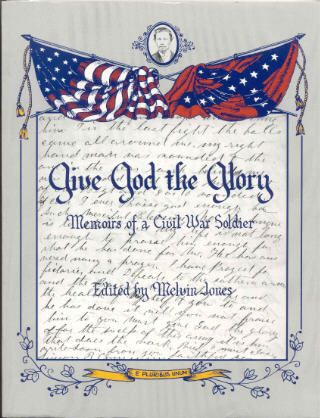 Give God The Glory
Memoirs of a Civil War Soldier-edited by Melvin Jones.